Modern global warming
Since 1957, measurements have shown that levels of greenhouse gases, such as CO2, are rising year by year. Our understanding of the atmosphere predicts a significant warming from this – is it happening?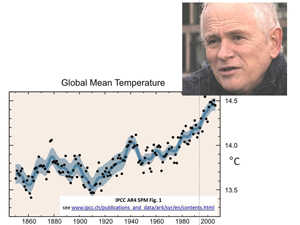 Videos
Taking the temperature – Myles Allen and Phil Jones
Factors besides CO2 – Myles Allen and Wally Broecker
Image: Phil Jones, University of East Anglia Graph: Average global surface temperature - annual (black dots) and decadal (blue band); IPCC 4th Assessment report 2007
Recent temperature changes
Daily temperatures are routinely recorded all round the world. Several international science organisations have been compiling this data to look for global trends in temperature over the last 150 years or so.
By averaging temperature measurements all round the world, including the surface of the oceans, they have all found essentially the same result – average temperature varied little until the 1920s, and since then there has been an overall warming of about 0.8°C.
There was a slight cooling in the 1950s, 1960s and 1970s, but strong warming in the last three decades.
Historical temperatures
Extending these records further back in time is more difficult, but estimates from tree rings, peat bogs, corals and written records indicate that in the last thousand years, the 20th century has been the warmest, and the 17th century the coldest.